Stair Parts
Attractive Stairs can be the making of your home. At Doors Plus Floors we have everything you need to give you a stairs which will complement you existing decor, be it traditional or contemporary. With some great offers available now is the time to provide the finishing touch to the home of your dreams.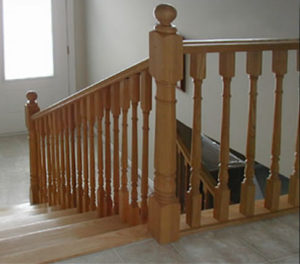 Newel Posts: A Newel is an upright post that supports the handrail of a stair banister or handrail. In stairs having straight flights it is the principal post at the foot of the staircase, but it can also be used for the intermediate posts on landings and at the top of a staircase. Although its primary purpose is structural, Newels have long been adorned with decorative trim and designed with different architectural styles.
Available in Mahogany, Pine & Oak. Chrome/Wooden Newels are also available. Please Contact us for more details.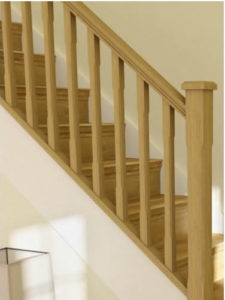 Spindles: Spindles are the posts that are ranged along the stairs and landing between the Handrail and the base. These can be very plain or highly decorative and would normally match the style of the Newel Posts.
Available in Mahogany, Pine & Oak. Chrome and metal Spindles are also available. Please Contact us for more details.
         Calculating the Number of Spindles Required: The number of Spindles required is important not just from an aesthetic  viewpoint but also for safety reasons.   

For the Stairs itself the calculation is straightforward. Count the number of Steps (Treads) and multiply by 2. Then deduct 1 for the Newel post at the bottom and 1 for the top. This will give the correct number.

For Example: If you have a 14 Tread Stairs then 14 x 2 = 28. Minus 1 for the bottom & 1 for the top = 26 Spindles.

On a Landing the recommended maximum gap between spindles is 99mm. This figure represents the width of a baby's head because if a baby can fit their head through the gap then there is the danger of a fall. To calculate the correct number measure the length of the landing  in millimetres from the Newel Post to the end point. Divide this figure by 121 and this will give the number of Spindles required.

For Example: Length of Landing = 2100mm ÷121 = 17.35. 18 Spindles are required.
Handrail: This, as the name suggests, is the Rail on which you rest your hand for support on the stairs. These can sit on top of Spindles or can be wall mounted using Brackets. A selection of Handrail Brackets is shown below. The Spindles are mounted into a  Base Rail at the bottom.
Available in Mahogany, Pine & Oak
Handrail Brackets